Customer Reviews
05/12/2023
Maja

Australia
I LOVE this combination. The oil is just to die for. Best oil not only for the face, but I slather it over my whole body. And the glow drops give me that perfect sunkissed glow. I love it so much all my friends are getting it for Xmas!
04/12/2023
Alice

Australia
Love it, it's so versatile! It's a staple in our routine.
03/12/2023
Kate L.

Australia
Amazing
Omg this is amazing, I can't get enough of it! My skin has never looked better and I've finally switched to this natural deodorant that smells heavenly!
04/12/2023
Summer Skin Australia
Thank you so much Kate for your lovely feedback! SO glad you are loving the products xxx
17/11/2023
Bianca.C

Australia
A Dream Bundle!!
The deodorant is the bomb i had tried many natural ones with no success so glad i finally tried summer skin!!! The glow drops & heavenly hydrating cream is exactly that! They also smell devine!
01/12/2023
Summer Skin Australia
Yay so happy you love our products! Thanks so much Bianca
13/11/2023
Danielle R.

Australia
Stunning and glowing!
Absolutely love love love the tanning oil, so surprised how far it goes and works so well to yeah your face so you don't need to wear makeup. I use the oil just before bed to make sure my face doesn't dry out in the night, wake up feeling fresh and moisturised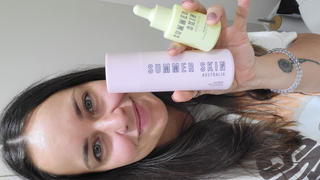 01/12/2023
Summer Skin Australia
Hey Danielle, thank you so incredibly much for you review, we are so glad you're loving your products